Introduction
I completed the  P90x with standard weight and it was a burden changing weights during the workouts with standard dumbbell sets. I decided to follow the P90X Plus Program but because of the quick change of weights,  I felt like I needed to get an adjustable dumbbell set for this one.
There are a few brands for adjustable weight sets out there, but I decided to get the Bowflex SelectTech 552 Adjustable Dumbbells
The Bowflex 552 Adjustable Dumbbells are perfect for any fitness program that requires weights to complete.  The weights ranges from 5lb all the way up to 52lbs.   For me it contained the perfect set  of weights for my training program.
I did take a look at the Bowflex Selecttech 1090 model, which gave up to 90lbs of weights, but this was to much for what i needed them for.
The SelectTech 552 Dumbbells are very compact  and quick and easy to switch between weights. You can select up to 15 pairs of free weights in a snap.
Since I use it on a regular basis, I thought it would be nice right a detailed Bowflex Selecttech 552 Dumbbell review
Features of the Bowflex Selecttech 552
Adjustable Dumbbell weights from 5 to 52.5 pounds in increments of 2.5lbs
Using a Unique Dial System, 15 sets of weights are combined into one  
Five-year warranty on weight plates, two-year warranty on parts
Exercises Available: 30+
Weight Settings: 15

Benefits of the Bowflex Adjustable Weights

Lets you rapidly switch from one exercise to the next, With just the turn of a dial you can automatically change your resistance from 5 lbs (2.27 kg) all the way up to 52.5 lbs (23.8 kg) of weight at 2.5lb increments.  If using standard dumbbell, you will not need to pickup 30 different dumbbells to switch between exercises
Adjustable Dumbbells Replaces up to 30 Dumbbells
These bowflex adjustable dumbbells are very space efficient. They eliminates the need for multiple dumbbells cluttering your workout space
Durable molding around the dumbbell plates provide for a quieter workout,  no noisy metal.
Wider range of exercises for total body results, your routine can range from the heavy exercise like shrugs and leg lunges to the much lighter exercise routines like curls and raises.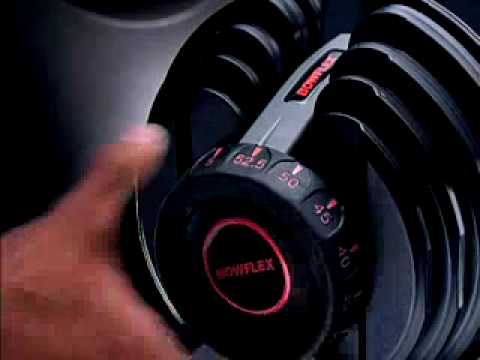 SelectTech 552 Model Construction and Design
As of 6/2012, the current model being Sold on Amazon is the 2009 model, as per popular belief there is no 2010 model. Also, the 2009 model has eliminated if not all,  but most of the issues and complaints  with the previous model in 2008.
The construction of the Bowflex Selecttech 552 Adjustable Dumbbells is very sturdy and does not look like it is likely to break. However, unlike regular dumbbells you should not drop the Bowflex Dumbbells on the flow after an exercise routine.  I would advise that if you get these dumbbells,  that you also get the adjustable dumbbell rack/stand also on Amazon here.
I have found the handle to have a very ergonomic design and fits nicely in the palm of my hands.  The grip feels comfortable and natural when lifting.  This may be a matter of personal preference and size of hands, but I found the handle to be thicker than the slim handles normally found standard dumbbells.  Some may like that and some may not, but I found the grip to be much more comfortable than standard dumbbells.
Each dumbbell has a unique dialing system at either end  of the unit.  You simply have to turn the dial to select the right weights.  Let say you select 10lbs,  the Selecttech 552 will lock in two plates to make the 10lbs and release all the other plates in the holding base. [easyazon-image-link asin="B0055F8CNM" alt="Bowflex Selecttech 552 with Stand" src="http://ecx.images-amazon.com/images/I/41g7CKDDyGL._SL160_.jpg" align="right" width="128" height="160"]
The minute you pick up the dumbbells you will be left holding the 10lbs you selected and the rest of the plates will remain in the holding base.   The only down side I notice was sometimes because of a little shifting alignment the plates may catch and will prevent smooth selection, but once you jiggle the mis-aligned plates back in place, everything locks and works smoothly.  This only happened to me, about 3 times for the over 400 times I have lifted with them.
One unique thing about Bowflex 552, is that either end of a dumbbell can have different weights selected. This allow me to do multiple variations in my exercise routine.
When lifting there is no shaking of the plates or clinging songs, the weights feel solid and well trap to prevent movements – plates a securely locked to the dumbbell handle
Size/Dimension
Dumbbell Dimensions (Each): 15.75 inches long by 8 inches wide by 9 inches tall
What is the Range of Exercises that can be Done With The Bowflex 552 Dumbbell Set?
Most of you may be under the impression that you need a number of dumbbell weights to do a complete workout program.  Selecttech 552 allow you to do over 30 exercises.   I will attempt to list the popular ones below
Shoulder Exercises – Standing shoulder press, Lateral raise, Seated overhead press, Front raise, Rear delt row, Shrugs
Arm Exercises – Standing curls, Concentration curls, Incline bench curls, Scott curls, Overhead triceps extension, Triceps kickback, Lying triceps extension, Hammer curls
Chest Exercises – Flat chest press, Incline chest press, Flat fly, Incline fly, Decline chest press 
Leg Exercises – Wide squats, Calf raises, Stationary lunges, Stiff-leg dead lift, Reverse lunge, Side lunge
Abdominal Exercises – Ab crunch, Reverse crunch, Lying trunk rotation, Twisting side crunch, Lying leg raise
Back Exercises – Alternating rows, Wide row, Dead lift
How Much Should You Pay for It?
Amazon has the lowest prices on the Bowflex Selecttech 552 Adjustable Dumbbells. They  carry a price tag of just over US$330.00.  I personally believe that this is a reasonable price based on the benefits.
At first glance you may find the price to be steep, but when you see what they can do you will be amazed that you got value for money.  If you find them to be expensive, you should first compare them with the price of getting regular sets of dumbbell sets.[easyazon-block asin="B001ARYU58" align="right"]
Be careful about other more attractive prices out there. Some of them are for the 2008 model, and this model had an issue where the plastic tab did not always hold the weights in place and that could be dangerous during use.   Beware that the deeply discounted prices of the 2008 model is not worth the risk of injury and creation of a dangerous situation during exercise.
This problem is one of the issues corrected in the 2009 model, and to be safe is best you get it at Amazon they are a trusted source.
What is Bowflex Warranty on these Dumbbells?
Bowflex 552 model, comes with a 2-year limited warranty on all parts; five-year warranty on weight plates; one-year warranty on labor.
 What's Included in the Package for the  Bowflex SelectTech 552 adjustable weight set?
10 Plates and one base plate is included with each bowflex adjustable dumbbell
There is a detailed step by step guide in DVD format.
The DVD also provides guidelines on how to use the SelectTech 552
The DVD includes guidelines on the over 30 exercises and the various variations
Consumer Reviews
There are over 379 reviews on Amazon about the the Bowflex 552 Adjustable DB's. The reviews shows that the the Bowflex 552 DB Set offers great value and is often purchase.  Most of the reviews on the bowflex site ranges from 4.7 to 5 stars from a total of 686 reviews and from 4.5 to 5 stars  379 reviews.
Amazon decided to combine the reviews of the older 2008 model with the 2009 newer model.   So most of the negative reviews that you may read on Amazon site is for the 2008 model.
The problem with 2008 model was that it had a plastic locking devices which would break, the 2009 model fix this with durable metal locking clip.
Here are some reviews from customers who have purchased the Selecttech 552 Adjustable Dumbbells.
Positive Reviews for the Bowflex SelectTech 552
The reviews of over on Amazon is largely positive.  I will list a few here for convinence.
 "These dumbbells are awesome! They make workouts so much faster and it is very easy to change from one weight to the next. Highly recommended for anyone who is serious about exercise!"
"I love how quick these are to change weight. The selector knobs are smooth and very easy to change. I will try to make sure not to slam these in the holder in order to avoid problems others have noted."
"5 out of 5 stars. Works great with Insanity workout. Product is worth buying. Would definitely tell others to purchase. "  
"Not the cheapest dumbbell set available. My girlfriend at first was questioning why I spent about $300 for a dumbbell set. When she saw what it can do, she was completely amazed by it."
"Only concern is if I drop it too hard onto the floor (like when you just finish a set of dumbbell bench press), it might break."

Negative Reviews for the Bowflex SelectTech 552
 The dumbbell is VERY sensitive to being placed down hard. If you are working out and pushing yourself hard you will need to not let the dumbbell drop like you would with other standard dumbbells.
The problem with 2008 model was that it had a plastic locking devices which would break, the 2009 model fix this with durable metal locking clip.
Many users complained about the length of the dumbbell its about 16" long and doing curls maybe an issue.  Although I agree with the length being longer than standard, I found that after a few uses, I got use to the length.

More Reviews of The Bowflex SelectTech 552 Dumbbells?
Head on over to Amazon and read from the over 370 reviews  Read them here
BowFlex User Survey
Over on the Bowflex Site,  the results of a survey conducted is posted.   Here are the results as of 7/2012
Pros
650 users liked the Ease of use.
520 users found them to be Durable
503 users enjoyed the multifunctionality
496 users like the compact design
374 users found that it targets muscle groups nicely.

Cons

22 users found them to be bulky –  No any  bulkier than the standard weights.  
11 users indicate that they had limited use – With 80 Exercise Variations?
9 users found them to be flimsy – I did not experience that.
7 users said that they were difficult to use – the DVD  guide is easy to follow
6 users found the price to high ( they did not shop at amazon to get the discounted price )

Best Uses

602 users used it for General Fitness
416 users use it for Bodybuilding
381 users use it for Sports Training
348 users use it for Weight Loss
30 users use it for P90X
Tips For Proper Use
You can use the dumbbell without the stand, but if you do make sure that when you lift you bend your legs and lift with you legs and not your back.
To be safe best you get the stand
If you have sweaty hands  ensure that you are wearing workout gloves.

Summary
Personally I found the Bowflex SelectTech 552 Adjustable Dumbbells to be very intuitive and easy to use.   It has a variety of weights and it allowed me to maintain a steady pace during my workout. I have used it a lot and it has allowed me to do more within a short space of time, especially when I am busy and need to do a quick workout before I head out the door to work.

So where can you Buy Bowflex SelectTech 552?
Amazon.com has the best prices for these units.  They are much lower than the price on the Bowflex website.   For current pricing information follow the link below.